Noticias varias de Internet , 14 enero 2020 Internet, Modernización de Empresas, Retail, Tarjetas y Pagos Electrónicos, Telecomunicaciones
The annual Consumer Electronics Show, taking place in Las Vegas, is a showcase of bizarre and revolutionary new technologies — with a few providing glimpses into the future of fintech and payments.Amid the assortment of tech toys, a few ideas are already in place to change the way people pay for home products, travel needs, and more. And the more futuristic the ideas, the more they require rebuilding the payment process from the ground up.
This story was compiled from reporting by PaymentsSource writers including John Adams, Kate Fitzgerald, David Heun, Michael Moeser and Daniel Wolfe.
1 A robot to control the robotic home
Samsung Ballie, CES 2020It looks more like BB-8 from Star Wars than Rosie from The Jetsons, but Samsung's Ballie could be big for managing the home and keeping supplies stocked.
In a demo at CES, Samsung depicted Ballie controlling televisions, timers and robotic vacuums, but it's not hard to make the leap to the idea that it could replenish supplies when it detects the home is running low on staples such as dog food and detergent.
Such a move would echo Amazon's Dash products, which allowed users to reorder such supplies by pressing a button or scanning a bar code. Samsung's line of smart refrigerators is already built with the ability to order groceries.
2 A smart city, built from scratch
Akio Toyoda, president and chief executive officer of Toyota Motor Corp.Toyota's «Woven City,» which it plans to start building by the end of 2021, will be designed from the ground up to accommodate technology such as autonomous vehicles.
The automaker's focus is on transportation rather than commerce, though one idea is to turn its vehicles into mobile retail spaces which move about or congregate in a plaza, The Verge reports.
Transportation projects are often an onramp to payments innovation. Passengers in driverless cars can spend time shopping if they don't need to focus on the road; and the cars themselves can be designed to pay for their own fuel and parking fees.
3 Alexa, pay for gas
One doesn't need to wait to live in Toyota's transportation-focused city to start paying from a connected car. Amazon is starting the new year with a major payment technology deployment at more than 11,500 gas stations, providing the e-commerce giant with an added leg to its rapidly expanding payments network ranging from checkout-free stores to Whole Foods to its own planned grocery chain.
Amazon Pay is the mobile wallet for Alexa-enabled voice payments for Exxon and Mobil stations in the U.S., with the initial deployments coming later this year. Consumers will be able to say "Alexa, pay for gas" when pulling up to the pump. The payment information will be stored in the consumer's Amazon account, with Fiserv providing the underlying processing technology.
4 Tech takes flight
Ed Bastian, chief executive officer of Delta Air Lines Inc.Delta is revamping its process for booking and boarding flights — and is partnering with Lyft to accomplish the same seamless experience ride-sharing apps have perfected for travel and payments.
Through the Lyft partnership, Delta will offer rewards for booking Lyft rides and enable the use of frequent flyer miles to pay for rides. The companies plan a deeper integration in the future, though Delta did not explain what that would mean, TechCrunch reports.
Delta plans other updates to its digital experience, mainly through its mobile app, to provide extra details such as the boarding times for specific boarding groups or the best checkpoint to use for security, the company's CEO Ed Bastian said in a CES keynote, according to the article.
5 Sprint's 'internet of payments'
Sprint logoSprint is working with Wirecard to integrate payments into its internet of things platform, called Curiosity.
The project's focus will initially be on creating futuristic retail experiences, including a seamless payment process across channels and borders, the companies said.
Sprint and Wirecard were brought together by SoftBank Investment Advisers, and are targeting enterprises worldwide.
6 Beans on the blockchain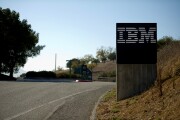 IBM signRabobank and IBM are partnering on a technology project that uses QR codes on Beyers coffee cups to trace the coffee's supply chain from the farm to the retailer.
The initiative includes a blockchain-powered interactive map that identifies the farmers, traders, roasters and brands, along with payment processing. The blockchain will connect the payment to supply chain data. Other partners include the Columbina Coffee Growers Federation, J.M. Smucker, RGC Coffee and Volcafe.
The cups and app will launch in the U.S. and Canada, and IBM hopes to reach consumers who are interested in buying coffee that has been sustainably grown but reliant on a complicated international supply chain.
7 Toilet humor
Charmin RollbotCharmin has unveiled some bizarre gadgets that don't quite pass the sniff test.
Its Rollbot can deliver an extra roll of toilet paper to those in need of one; its SmellSense system lets prospective washroom users know when the air has cleared from the past user; and its V.I.Pee toilet has a VR headset to allow concertgoers to keep enjoying the show when they go, PC magazine reports.
While these devices aren't universally practical, they do showcase a potential demand for bringing digital commerce tech to the toilets. Amazon's Dash buttons, for example, allowed consumers to reorder toilet paper and cleaning products through a Wi-Fi button adhered somewhere in the bathroom, but Amazon shut down that function starting in March 2019.
8 Uber bets big on Vegas
Uber officeUber's foray into mass transit has extended to Las Vegas, where CES is taking place. The ride sharing provider and Masabi have launched transit ticketing for all Las Vegas transit systems.
For Uber, it's an opportunity to add service for consumers in a tourist-heavy city where it faces tough competition from other ride-sharing apps and a powerful local taxi industry. Transit is a good potential fit, since most travelers to Las Vegas probably lack knowledge of the local transit system.
Uber has made a similar deal with Denver's transit system. Masabi, a transit technology company with offices in New York and London, is also part of Uber's Denver transit project.
Source: https://www.paymentssource.com/
---
Noticias Relacionadas con este Artículo
---
Nosotros le podemos ayudar